Inheat mug warmer review
Do you know how awful a cold coffee can be? no one in the world likes to have a cold coffee and we mean absolutely no one. Not only coffee, there are other beverages that are not enjoyed cold some of which are tea, hot cocoa and even milk. You can enjoy the taste in fact the coldness tends to give it another taste all together.
There seems to be a serious recurring problem right now among the busy people at work yes. There are a lot of people who are so busy at their work places, too busy to even move around so they need to sit glued to their computer desks in fact they can be so glued that can't even stand up and go to the coffee machine.
They would have to stick to their cup of coffee with them and due to the intensity of the work, then coffee gets cold and becomes a bit gross disgusting to taste. This has been a major problem. And maybe at some point you might have had this experience.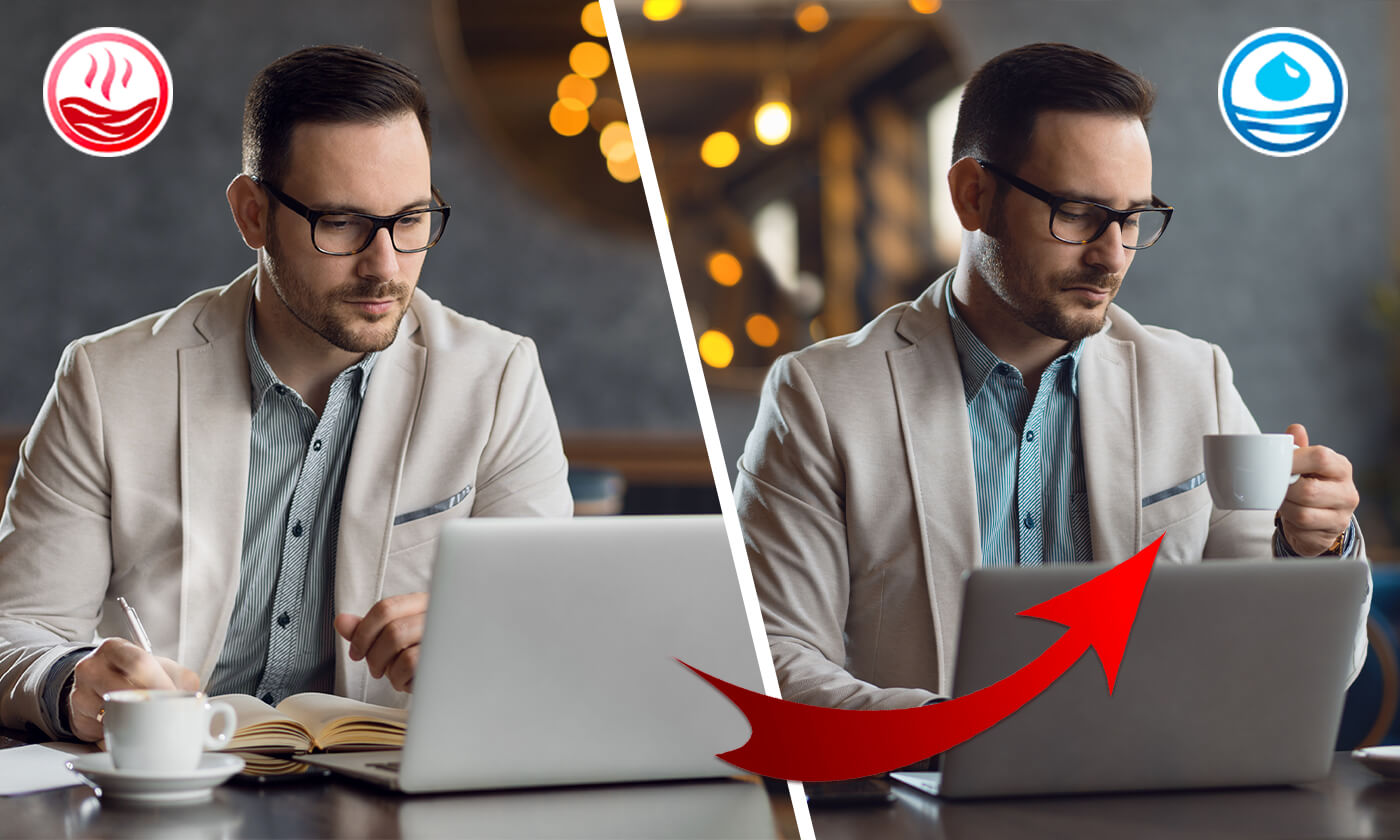 The truth is no one likes a cold coffee. So to retain the he of the coffee some people prefer to use mugs instead of regular cups.
Mugs have a way of retaining the temperature of a beverage over some period of time. But trust me there are some situations you will have to need more than just mugs. So we have been faced with questions from people who seek to know if there can be any solution to this recurring problems.
Not everyone is disposed to go to the coffee match or go to boil water for tea in the kitchen sometimes we can be so busy with stuff that we won't be disposed to do that. So today we are happy to tell you that your search for answers ends here. Allow us to tell you about a coffee mug that is not just a mug but a heater to heat up your coffee when it gets cold the name is Inheat mug heater.
The inheat is not just a coffee mug with a coaster no!! It is also a wireless charger for your phone. Yeah, you heard it right! A cup warmer and a charger for mobile phone? This is really more than what we asked for giggles.
So in this review we are going to be giving you a full detailed information on the inheat mug warmer, after this review you can now be certain whether you would want this evolutionary piece of tech or not.
Come on, let's begin!
What is inheat mug warmer?
The inheat is a mug warmer and a wirless charger that simply converts some energy forms automatically to keep your beverages warmed at 55 degree Celsius. it automatically starts heating when.it comes in contact with the base of your coffee mug. This means that you cannot burn yourself if you accidentally touch the heating floor of the inheat warmer when the mug is not on it.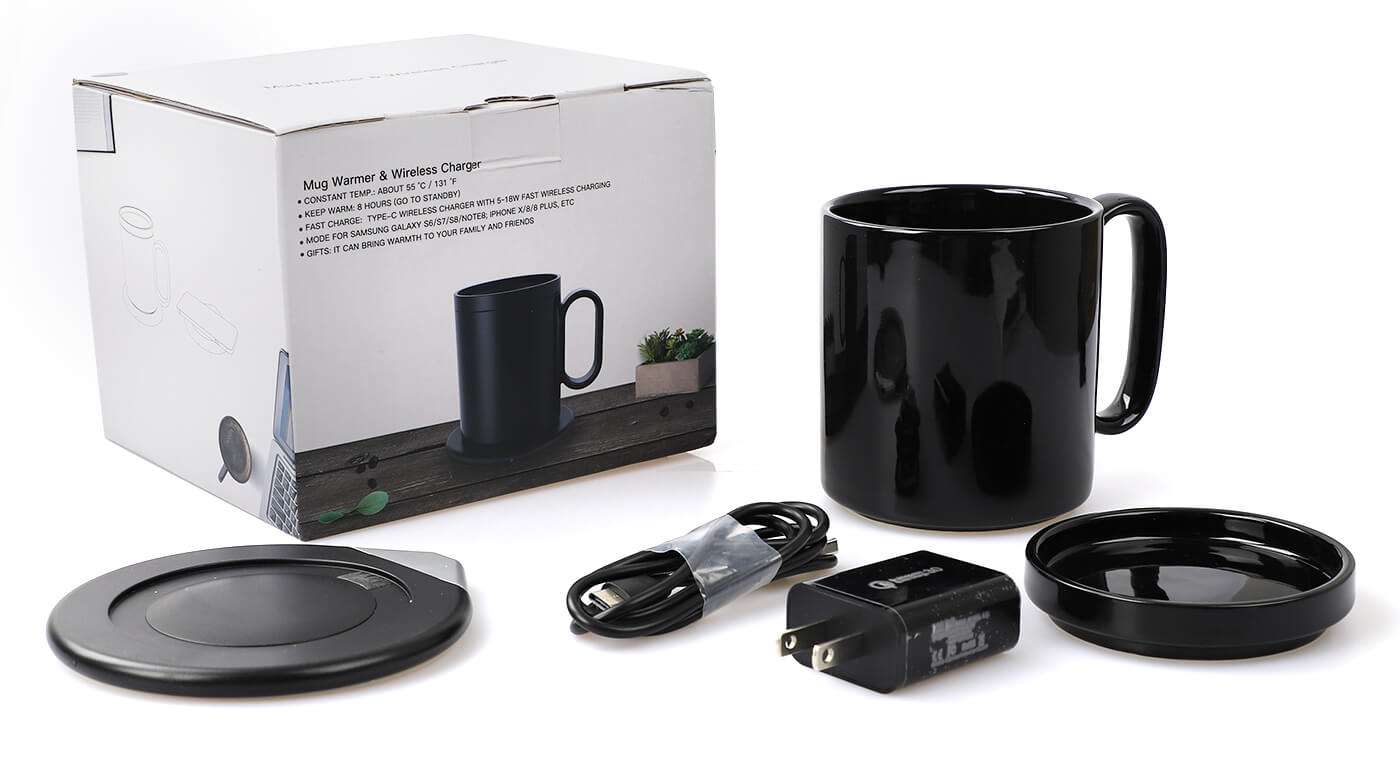 It can also serve as a wireless cellphone charger for QI enabled phones. Which also starts to charge your phone wirelessly once placed your phone on the device.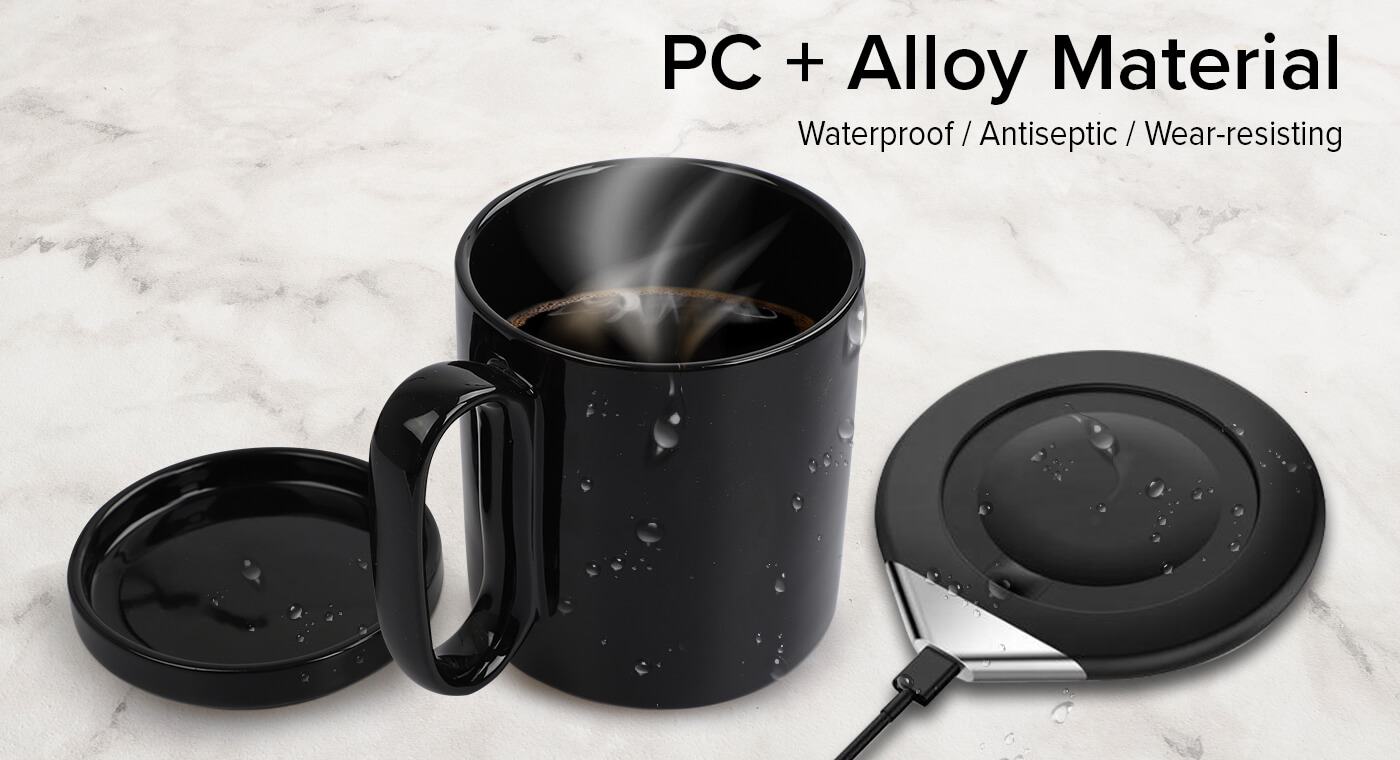 It comes with a coffee mug which is just the right size and fits specifically to it. Above all, this mug warmer is lightweight compact and easy to use.
What are the main features of the inheat mug warmer?
High quality material: the inheat mug warmer is equipped with the latest technology and made of first class materials which can last for a very long time without the need of replacing it.
Extra coffee mug: You may feel you would have no need for this because you already have an everyday cup, but that's not so the inheat mug warmer comes with a 350ml capacity mug made of quality porcelain material which tends to conserve temperature within the vessel for a considerable period of time after warming.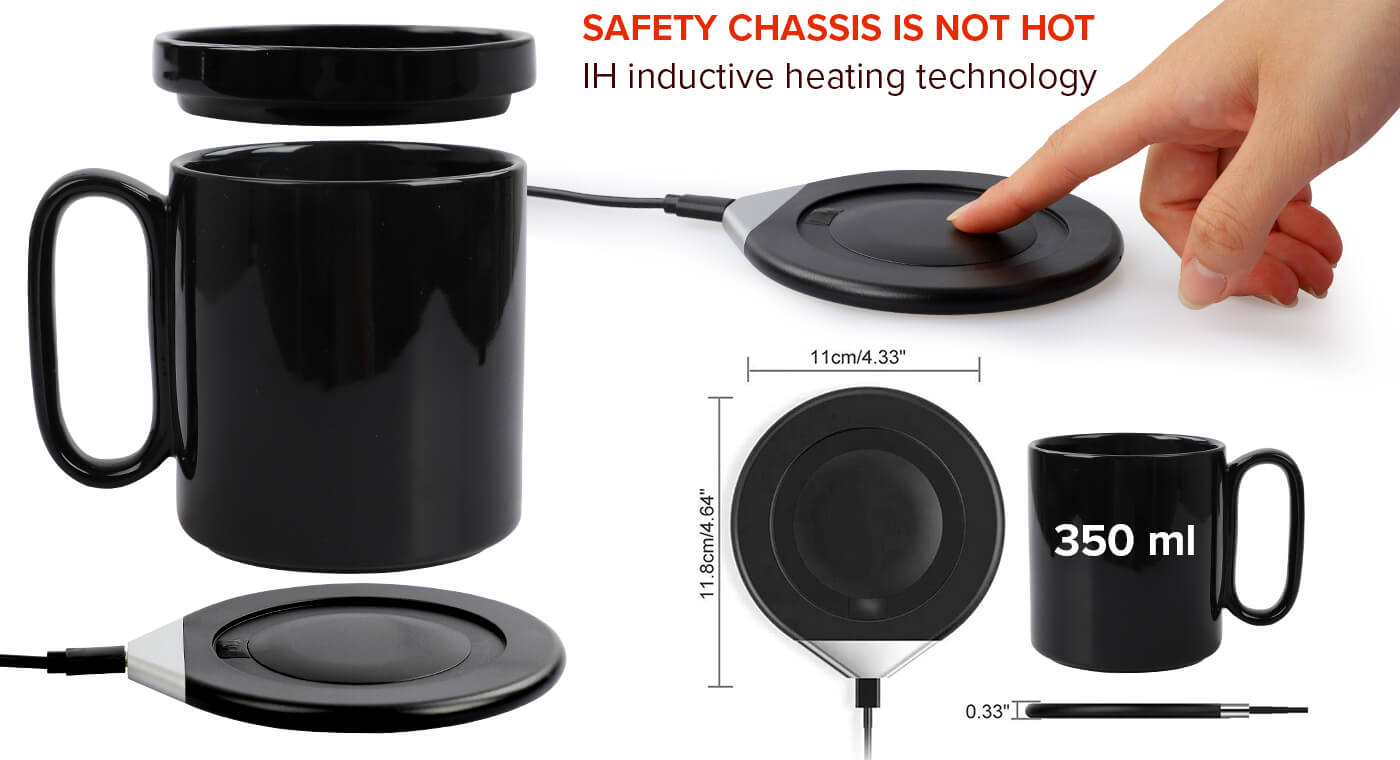 The coffee mug also comes with a lid which helps conserve the temperature of you coffee for a longer period of time.
Easy to use: to use your coffee mug warmer has never been more easier and straight forward, the inheat requires no skill in order to use it just place your coffee mug on it and automatically it activates and starts warming your coffee or tea.
Type C cord: the inheat is powered using the USB type c port which can be connected to an adapter or to your laptop during work.
Also a mobile phone charger: And yes this is one of the most shocker features of the inheat mug warmer. It is not just a mug warmer but it is also a wireless charge for your Qi-enabled cell phones, the wireless charging has been tested and confirmed to deliver fast charging properties which you may not find in some chargers.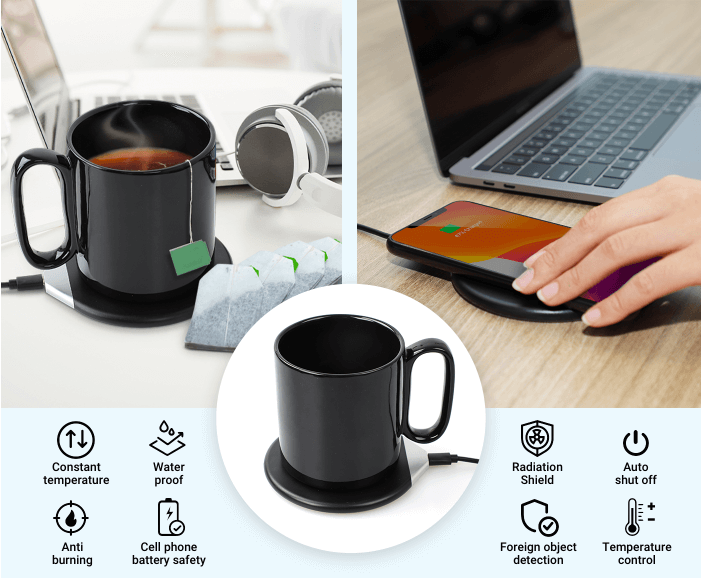 Portable and compact design: this coffee mug warmer comes in a compact design that will not take much space on your work desk it's also lightweight and can easily be taken with you to anywhere you what to go.
What are the technical features of the inheat mug warmer?
| | |
| --- | --- |
| dimension | 11.8 cm x 11 cm x 0.83 cm |
| Power cord | Type C to USB |
| Wireless charging | 5-18 W |
| Smartphone compatibility | iOS and android phones |
| | |
| | |
How do I use the inheat mug warmer?
As earlier mentioned the inheat was made to be easy to use. There is no need to consult any manual in order for to use it. But we will guide you by giving you four simple steps on how you can use your inheat mug warmer
Step 1: connect your type C power cord to the inheat socket. Connect the other end to the adapter or a USB port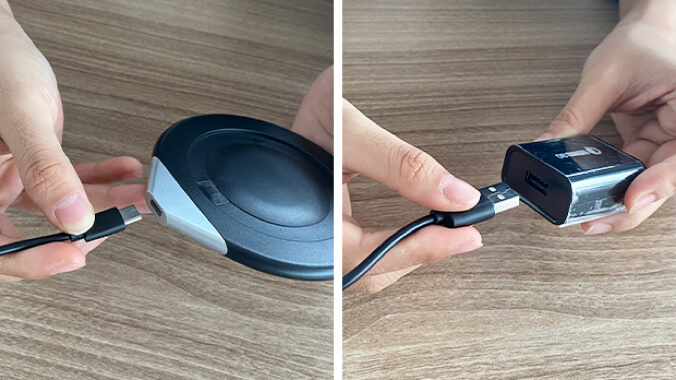 Step 2: if you are using an adapter plug to a nearby socket, if you are not using an adapter plug to the USB port of your laptop, which is even better for your intense work schedule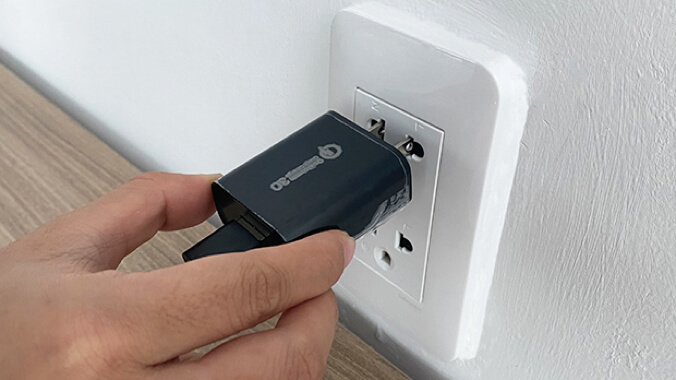 Step 3: place the inheat cup on the center of the saucer to warm up. To charge your phone, simply place it or any other Qi-enabled mobile phone on it. There is no on button the device automatically warms your coffee or charges your phone instantly.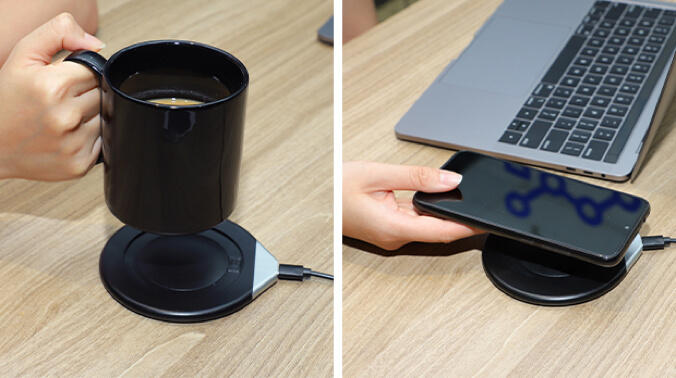 Step 4: enjoy your hot drink at its original taste and the wireless charging function.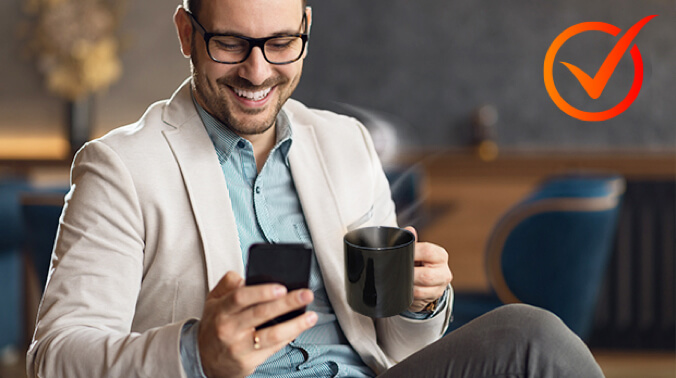 What are the benefits of the inheat mug warmer?
The inheat mug warmer is a new product in the market and the first of its kind making waves across the globe right now.
With this device by your site you have exactly nothing to lose and everything to gain!
Say goodbye to cold coffee: taking cold coffee has a way of affecting your overall production rate during work, with this device you have an edge, you are sure to have your coffee hot at ever time of the day.
Improves your daily morning routine: you are sure of a productive day every morning
Fast charging is assured for you: the wireless charging feature of the inheat mug warmer ensure the speedy charging of your Qi- enabled cell phone
It is easy to use and can always be taken with you to anyway.
Ensures uninterrupted work patterns: No need of breaking up your work routine just to go get a hot coffee from the coffee machine. You stick to your desk as long as you like and enjoy your hot coffee throughout your stay in the office.
You also get to be a beneficiary in the current 50% price discount bonus. So grab your opportunity now.
What are the pros and cons of the inheat mug warmer?
Pros
It is easy to use
It constantly and effectively keeps your beverages warm
It is made from material that is highly durable
The inheat mug warmer causes no inconvenience when you are at work it is sure to take.
It is affordable and budget friendly
There is a 50% discount promo.
There is no risk of accident even if you accidentally touch the coaster of the inheat mug warmer
Cons
Only limited stock is available
The 50% discount only lasts for a short period of time.
Who needs the inheat mug warmer?
The inheat is a device everyone can have, there is no limitation to having this device. It is completely safe and can be handled by anyone.
But people that need it most are people who are always busy with office work and need there coffee mugs by their side always. If you this kind of person then it is highly advisable to get this mug warmer and cell phone charger. once your take out your coffee mug place your cell phone to charge.
How much is the inheat mug warmer
The inheat mug warmer is highly affordable, and you also enjoy a 50% discount in price
A unit of the inheat mug warmer costs $89.99
That's not all you also get to enjoy more interesting discounts when you buy more than one!
Two units of the inheat costs $157.48
Three units can be gotten for $202.48
And you can get four units for $247.47
Where can I buy the inheat?
The inheat mug warmer can only be purchased online from their official site and this is to avoid being scammed.
Furthermore only those that make their purchase through the site can get to enjoy the ongoing 50% discount in price.
The site also make use of multiple payment methods which include; paypal, amex, Mastercard and visa
The site has a high security and also banks on a 256-bit SSL encryption which strongly secures your payment information.
30 days money back guarantee: inheat offers a 30-day guarantee on all unused orders or buyers who are unsatisfied with their orders all you have to do is to post back the order, you will receive an email on confirmation of the return and you will be instantly refunded except shipping cost.
If you are placed your order with paypal, you get to enjoy a free return shipping. That mean you can ship it back for free.
customer reviews on the inheat mug warmer
Dan R. – San Jose, CA– "Five stars! I use it every day, and sometimes more than once. It's great for my morning coffee, as I'm usually making breakfast and doing other things. Sometimes my coffee gets cold. Not anymore! Now my coffee's still hot when my eggs are done and I can enjoy them together. It's the little things!"
Sheila J. – Detroit, MI "InHeat might be the best gift I've received in a long time. I love drinking tea while watching my shows and relaxing in the evening, but my tea ALWAYS goes cold long before I finish it. I can't help it! I want to make my drink last! But now my tea can remain hot for as long as I want it to. I'm really happy with my InHeat and can't recommend it enough."
Nora E. – Tucson, AZ– "I've been waiting for something like this! It keeps my coffee and tea hot till the last drop, and then I can just put the cup to the side and throw my phone on it for charging. Very convenient and it's super easy to set up and use. Even I was able to do it! I think there are a few people who will be getting an InHeat as a gift this year."
Grant H. – Indianapolis, INc "Great for keeping my coffee hot, and great for charging my phone. Does what it says it will do and does it well. Seems really well built and I haven't had any issues since I started using it about six months ago. I wish all my gadgets were made this well."
frequently asked questions on the inheat mug heater
Can any cup be used with inheat?
No you can't, you see the InHeat was specially developed to heat the bottom of the reinforced porcelain mug included in the scope of delivery. Electromagnetic induction is used here. The included lid ensures your coffee stays hot and ready to be taken with you.
Are all mobile phone compatible with the inheat charger?
The InHeat is compatible with all Qi-enabled smartphones, regardless of brand, including iPhone 8, iPhone X, Samsung S6 and many more. Place your phone on top of the device to activate the wireless charging function.
Is there a guarantee on Inheat?
Yes, you are free to test the product for 30 days without any obligation. If you should change your mind within this time, send the device back to us and we will refund the full purchase price.
Final verdict
You can be assured of kissing good bye to having cold beverages from now on with the new inheat mug warmer. We strongly recommend this wonderful innovation and advise you boost work productivity with this mug warmer
You get to enjoy your coffee, hot chocolate, milk or tea hot and with great taste too and also get your cell phones wirelessly charged as well with high charging speed. This makes the inheat the best buy in the gadget market right. It adds positively to your everyday live.
Right now the inheat has been on the order of thousands of customers and so we would want you to join the moving train and go get yours now!
Hope you enjoyed this review for more review on interesting gadgets simply go to our review page
feel free to ask your questions down in the comment section below.
Visits: 1802