Ever wondered if you could see a smart speaker that would give you the best sound quality and be budget friendly? Well my friend your search has come to an end. Allow us to introduce to you Amazons very own new and improved echo dot (3rd gen). This is a device that hasn't just made a name for itself but has also ranked up in the gadget market for its impeccable efficiency and affordability, we can tell you that this is the best low budget Alexa speaker you can find. The echo dot (3rd gen) is a huge improvement from its predecessor the echo dot (2nd gen).
We can categorically tell you that the echo dot is the best-selling smart speaker in the world today, given the fact that this 3rd generation echo dot is a huge step up from the 2nd generation in terms of sound quality and the best of Alexa at a budget friendly amount.
We urge you to stick to this page as we provide you with loads of helpful information about this device. When we are done here, you won't just know about the echo dot but you can also be able to confidently decide whether to buy this device or not.
Are you ready? Here we go.
The echo dot 3rd generation review.
The echo dot is a voice controlled smart speaker with Alexa, it is perfect for house hold smart activities. The new echo dot provides a highly improved sound, making it a better buy for an entry level alexa speaker. The 3rd gen was a successor to the 2nd gen echo dot and showed a massive improvement in terms of sound volume and quality, making it competitively worthy to rival the 99$ google home mini. The echo dot has made controlling your home with just the sound of voice a reality, just ask for music, time and so much more.
No doubt, amazon has really done a great job on this piece of technology making it the best Alexa supported device in the market today.
What does the echo dot do?
Gives the best music quality:
That's the primary use of the echo dot, for music. The echo dot 3rd gen is guaranteed to give you the best sound qualities when you play for favorite songs. One echo dot is enough to fill a room with music but you can also connect two or more dots together wirelessly to get a boom performance and a larger outdoor coverage, you don't even need another dot to improve your sound, the echo dot come with a 3.5mm aux jack which allows you to connect to even larger speakers at home. Isn't that awesome? The richer and louder sound of the echo dot 3rd gen is one of the major improvements amazon made.
Alexa assistance
Echo dot is not just a speaker for playing music, oh no its not! This device offers so much more, with Alexa activated, your daily activities are covered. As humans there are things that can skip our minds, there are other minor things we may not be disposed to do at a given time, this device can help you in such ways when alexa is activated, you can use your voice to give a series of commands and tasks. You can ask for time, news updates, movie show times, current sports score lines and so much more. You can also set your reminders like a birthday of a loved one, Alexa can also keep you up to speed by notifying you on that dinner schedule winks*.
Making life easier at home.
What? No! This little thing control your home? No way! These are questions probably going on in your head right now, and the answer is yes this device can help you control your smart home with voice control.
Your echo dot with Alexa can manage compatible house hold devices with nothing but your voice, you can make a coffee in the kitchen while your still in your bedroom, without moving a muscle you can turn your TV on and off at your will and even change to programs of your choice, turns your lights on and off, even your air conditioner can be controlled.
What you want is something that will take away stress from your day to day activities and this device will offer you that pleasure!
Security
This is very important. Your echo dot can actually play a key role in security. With the aid of its sound quality and with alexa assistance it can trigger an alarm on detection of strange sounds like breaking of glasses and in some situations sound of gunshot. It can also a play a role as an auxiliary alarm here the echo dots triggers its alarm on the detection of the sound of another alarm within the household for instance the sound of the smoke alarm in the kitchen.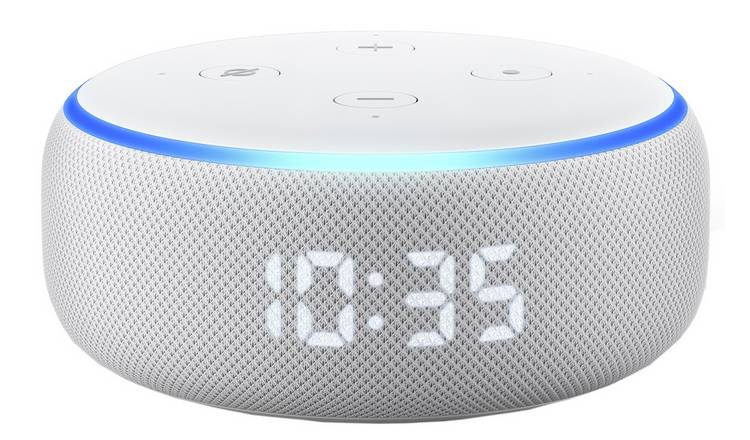 Why do I need the echo dot (3rd gen)?
The world we live in keeps evolving every day in terms of technology, the primary reason you're here is to find something that makes your beautiful life less stressful, we can guarantee you that the echo dot is one of those devices, it's not just for music but an assistance to your household.
Pros and cons
| | |
| --- | --- |
| pros | cons |
| it is the best affordable alexa device | Alexa has some limitations in answeing vast queries |
| highly portable | |
| more improved sound quality than the previous model | |
| speaker extension with 3.5 mm jack for external speakers | |
| water and dust proof | |
Specifications and Technical details
Specifications
| | |
| --- | --- |
| Smart spec | |
| Visual assistance | Amazon alexa |
| Operating system | Fire OS |
| Ram | 512mb |
| Rom | 4gb |
| Processor type | ARMcoretex-A35 quad core |
| Processor speed | 1.3GHz |
| | |
| --- | --- |
| Speaker system | |
| Drivers | 1x 1.57"/40 mm full range |
| Power output | 1.2 W |
| Frequency response | 100Hz – 18kHz |
| | |
| Microphone mute | yes |
| | |
| CONNECTIVITY | |
| | |
| Ethernet | none |
| Bluetooth | 2.1 |
| Wi-Fi standards | Wi-Fi 5 (802.11ac) |
| Wi-Fi bands | 2.4GHz, 5GHz |
| NFC | no |
| USB | none |
Technical details
| | |
| --- | --- |
| size | 3.9" x 3.9" x 1.7" (99 mm x 99 mm x 43 mm) |
| weight | 10.6 oz. (300 grams) |
| Wi-Fi connectivity | Dual-band Wi-Fi supports 802.11a/b/g/n/ac (2.4 and 5GHz) networks. |
| Bluetooth connectivity | A2DP support for audio streaming from mobile device to echo dot or from echo dot to your Bluetooth speaker. Audio/video remote control profile (AVRCP) for control of connected devices. |
| Audio | Built in speakers for voice feedback when not connected to external speakers. 3.5mm stereo audio output for external speakers |
| Language | Alexa speaks English and Spanish |
How can I get the echo dot (3rd gen)?
There are number of retail online stores you can get the amazon echo dot, but we strongly suggest you purchase from Amazon website. At amazon, you can enjoy a good discount from the actual price which you can't get from other online stores.
To purchase your echo dot 3rd generation smart speaker with Alexa
Visits: 1511